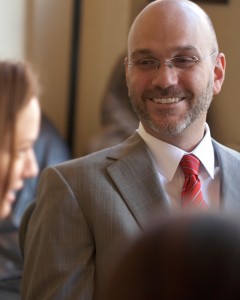 Sean Grover, LCSW
Sean Grover, LCSW, is a psychotherapist, speaker, and author with 25 years experience working with adults and children. He maintains one of the largest group therapy practices in the U.S. and leads over 300 groups a year in his practice, in addition to monthly workshops in clinics, medical centers, youth organizations, and schools.
A Psychotherapist's Journey
Sean began his clinical career as a school social worker in some of the most notorious and gang-ridden areas of New York City. Sean recalls, "My first school office was a broom closet with no windows and a broken light switch. I remember my supervisor wishing me well as she closed the door and left me in complete darkness."
During those early years, his affinity for working with youth and connecting with their families led to the rapid expansion of his programs, supported by significant private and public funding. For his innovative youth programs, Sean was honored with two awards from New York Times Neediest Cases Fund. An archive video interview from this time can be seen on this website. (VIDEO)
Sean has served as an adolescent expert witness for New York State Supreme Court and as a Board member of Creative Alternatives of New York at Mt. Sinai Hospital, a program that brings drama therapies to a wide range of inpatient and outpatient populations. He has also served as a Program Coordinator for Brooklyn Psychiatric Centers and a Clinical Supervisor at the Harlem Education Arts Fund and has been a member of the Brooklyn District Attorney's task force on youth violence, the American Group Psychotherapy Association, and the Eastern Group Psychotherapy Society.
Media Outlets
A skilled and inspiring speaker, Sean has also been interviewed and quoted in The Economist, The Wall Street Journal, Newsweek, and New York Magazine on issues of psychotherapist training, parent-child relationships, and in 2016 appeared in a live interview with the The New York Times.
Sean's 2015 Associated Press interview, "New Book Takes On the Culture of Kids Bullying their Parents," appeared in over 150 media outlets, including: US News, The Washington Post, ABC News, NBC News, etc.
Sean's 2014 Associated Press interview appeared in over 100 national news media services, including ABC NEWS, Huffington Post, NPR and Yahoo News.
Psychotherapist & Clinical Publications
Sean's other publications include the chapter, "What's so Funny? The Group Leader's Use of Humor in Adolescent Groups," in the top-selling clinical volume, 101 Interventions for Group Therapy (Haworth Press, 2014), a chapter in Handbook of Child & Adolescent Group Therapy (Taylor & Francis 2016) and the clinical article "Separation Anxiety in Adolescence: How to Grow a Healthy Teenager" in Issues in Psychoanalytic Psychology, (WSI, 2016).
Sean's parenting book, WHEN KIDS CALL THE SHOTS: How to Seize Control from Your Darling Bully and Enjoy Being a Parent Again (AMACOM Books, 2015) gathered rave reviews and received a starred review for best new non-fiction from Publishers Weekly. To date, it has been translated into Russia and Chinese.
Sean's new Psychology Today blog has gathered over 2 million reads and continues to grow. Sean has contributed dozens of articles to blogs such as PsychCentral, Mind Body Green, Maria Shriver, and Huffington Post. Sean is also a featured guest psychotherapist on podcasts and radio shows.
A Psychotherapist's Private Struggle
Sean's play, THE TALKING CURE was produced by The New York Theater Festival in Jan. 2017 and received a nomination for BEST PLAY. THE TALKING CURE gives audiences a rare peek into the personal struggles of a psychotherapist as he wrestles with patients' demons — and his own.
Sean trained with some of the best clinicians in modern psychotherapy in the country, including a decade-long mentorship with the late Dr. Louis Ormont, the internationally renowned group therapist, and author Dr. George Weinberg, a psychotherapist and best-selling writer of over a dozen self-help books.